Performers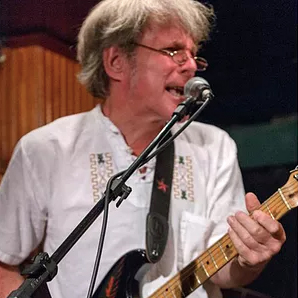 David Frye
Saturday, June 22
4:05 pm - 4:50 pm
Mr. Lou/Stefan's Turning Point Stage
David Frye is a singer / songwriter / instrumentalist / writer / spoken-word performer from the metro New York area, whose broad range of musical interests & experiences, not to mention his deep, life-long connection to the Airplane's music, makes the Reverend Jefferson project a labor of love for him.
As a member of The Flying Jalapenos & a solo artist, he has shared the stage with legends like Johnny Winter, Buddy Miles, & Honeyboy Edwards, as well as Vernon Reid & Andre LaSalle (Living Color & Burnt Sugar). He has also accompanied alterna-folk darlings The Kennedys, as well as John Gorka, Cliff Eberhardt, Scarlett Rivera (Bob Dylan) & others.
His long-time musical involvement with the other members of Reverend Jefferson in other projects over the years, has formed a seamless fusion of musical personalities that is rare & exciting to see & hear. His decade-long singing partnership with Ms. Lediger alone gives Reverend Jefferson that special vocal blending that is a crucial element in re-creating the soaring harmonies of Paul Kantner & Grace Slick at their best. No one today does the classic Airplane justice as these musicians do, & their love & respect for the music is obvious.